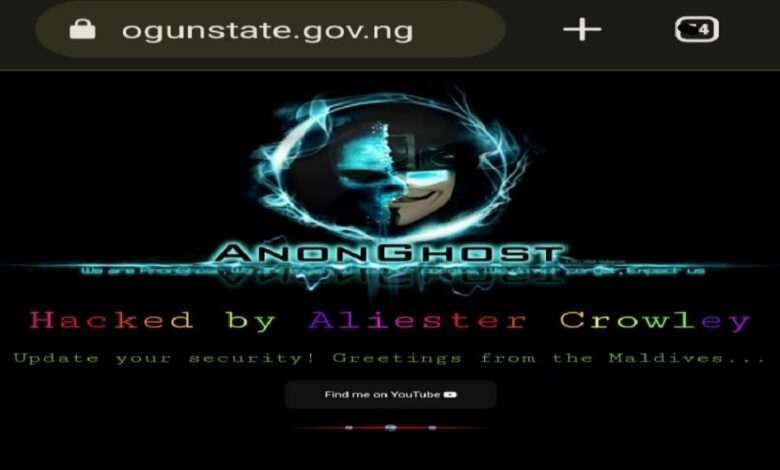 The Ogun state government website (www.ogunstate.gov.ng) has been hacked.
Our source gathered that the intrusion on Wednesday morning.
The hackers who identified themselves as Aliester Crowley under "Anon Ghost" claimed to be operating from the Maldives.
"We are Anon Ghost," reads a bold inscription on the website under what appears to be the logo of the hackers.
"We are legend, we do not forgive, we do not forget, expect us.
"Hacked by Aliester Crowley. Update your security! Greetings from the Maldives.
"Find me on YouTube," the hackers added.
The cyber-attackers also defaced all the pages of the website.
This is not the first time the Ogun state government has suffered a hack attack. In 2015, cyber-terrorists took over the website, and like the latest attack, asked the state government to update its security.
Other Nigerian government websites that have also fallen prey to hackers include the National Primary Healthcare Development Agency (NPHCDA), Niger Delta Development Commission (NDDC), Economic and Financial Crimes Commission (EFCC), the Independent National Electoral Commission (INEC) and that of the Nigeria Labour Congress (NLC).
Kunle Somorin, chief press secretary to Dapo Abiodun, governor of Ogun, told TheCable that the state was unaware of the development, but added that it would be rectified soon.
"I am not aware of a hack. By who? The cabinet is dissolved at the moment but I will get across to the social media team. I'm sure they will work on it now," he said