GOSSIP
"You go suffer" – Mentally challenged woman tells pastor who tried to forcefully heal her (Video)
A Nigerian pastor has been captured on video attempting to forcefully conduct deliverance on a mentally disabled woman.
The public encounter between the man of God and the woman caused onlookers to stop and take in the drama.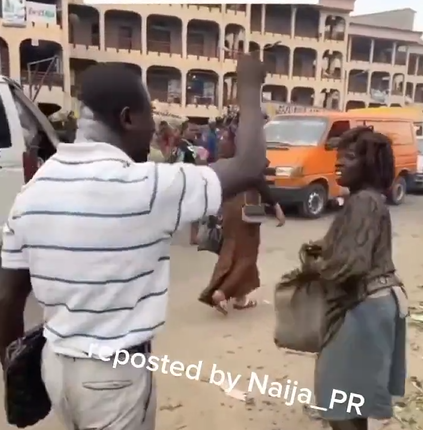 He started blowing the air of liberty on her in an attempt to supernaturally heal her so she would come to her senses, but she decided to spit on him in retribution.
He continued to touch her, but the woman became enraged and started cursing at him in Pidgin and Yoruba.
The pastor ignored requests to stop blowing air in her face from passersby and kept doing it.
Read some comments on the video below,
Sammy wrote; Now, who's actually MAD? Bcox confusion don break bone here oooooo
OmoYakubu wrote; All these small small Pastor no dey get patient finish apprenticeship, he for understand say no be real Sick people miracle dey cure.
SassieEve wrote; Na oyingbo market be this nah
if he no fit heal this one make he move to another person…
Brian commented; From the video i watched the woman is not mad na, it's the man that is mad here. The woman even speaks well. Make Una check that man well o
Watch the video below: