POLITICS
Tinubu'll perform well, turn Nigeria around, says Wike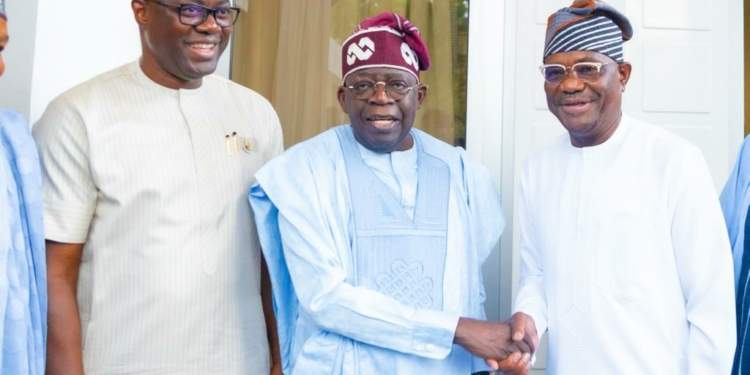 Nyesom Wike, governor of Rivers, has expressed confidence in the ability of Bola Tinubu, the president-elect, to tackle the myriads of challenges confronting Nigeria.
Speaking on Friday when he and Seyi Makinde, governor of Oyo, met with Tinubu at the Defence House in Abuja, Wike said Tinubu has what it takes to transform Nigeria.
The Rivers governor implored Nigerians to support Tinubu to succeed as president after his inauguration on May 29.
"Elections have come and gone, the winner has emerged and, therefore, it is necessary for all Nigerians to rally around to give him (Tinubu) the necessary support for the interest of Nigeria," Wike said.
"People can't wait till May 29 to see that the president is inaugurated and from there kicks the ground rolling to make sure that Nigerians get what they expect.
"I am confident he (Tinubu) has what it takes to turn Nigeria around. I have that confidence."
Also speaking, Makinde said TInubu would be given the needed support to govern the country.
"I came here to pay homage to the president-elect and let him know that elections are over. This is governance and we will do our best to give him support for the good governance of Nigeria," Makinde said.
Though members of the opposition party, Peoples Democratic Party, Wike and Makinde have been hobnobbing with Tinubu and the APC for months on end now, an action many considered anti-party.