NEWS
NLC: No Going Back On Wednesday Protest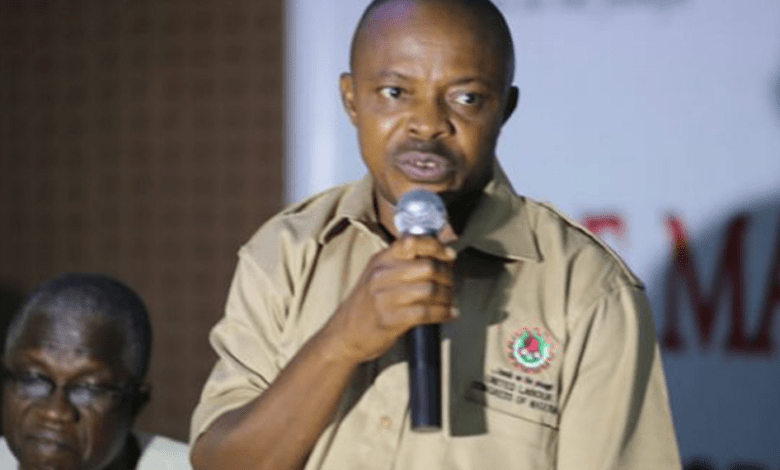 Organised labour has maintained its resolve to carry out its planned protest against the removal of petroleum subsidies.
After another round of meetings of the Presidential Steering Committee on Palliatives at the presidential villa in Abuja, Joe Ajaero, President of the Nigeria Labour Congress (NLC), spoke with State House reporters.
He stated that the plan for workers to stage a peaceful protest beginning Wednesday has not changed.
Ajaero, who dismissed fears that hoodlums would hijack the peaceful protest, stated that such an event had never occurred in the history of workers' protests.
He, on the other hand, stated that it was the responsibility of security agencies to provide security for the protest in order to protect the workers.
The NLC leader also questioned President Bola Ahmed Tinubu's ability to control inflation and petrol prices as a result of the currency's unification.
He stated that the Steering Committee meeting was postponed until 12 noon on Tuesday to allow labour leaders to listen to the president's national broadcast on Monday.
In response to Tinubu's plan to intervene in the exchange rate due to inflation and high petrol prices, Ajaero stated:
By the time you have a single market and you are not having anything that has a comparative advantage, your energy is import driven, then how are you going to control it? How are you going to control somebody that exchanged dollar at about 900 (naira)? Are you going to tell him to sell below the price?

How are you going to tell even NEPA today, with the cost of production not to increase tariff? Even corn in the villages that was sold at N18,000 by February, now it's about 56,000. How are you going to control it?
On his side, the Chief of Staff to the President said that issues were trashed at the closed-door meeting and that they adjourned to listen to the President's broadcast.
He also said the government was dealing with the oil cabals that have brought the economy to its knees.
We have been locked behind for a couple of hours, we had a good meeting, issues were thrashed out on the situation in Nigeria today in terms of issues centred around on government intervention on the situation in the country.

We agreed to adjourn till tomorrow as you know Mr. President is making a national broadcast today. Based on what we anticipate that Mr. President will be telling Nigerians we decided to adjourn meeting till 12pm tomorrow before labour can decide whether or not they want to continue with the protest on Wednesday.

But we believe that after tonight broadcast, President will speak to all the issues, he will roll out his interventions and needles to say we believe any reasonable person will tell you that at that point there will be no need for any protest.
On why the government did not provide palliatives prior to announcing the discontinuation of petrol subsidies, he stated that the previous government did not budget for subsidies and that President Tinubu was providing palliatives to cushion the impact on the people.
When asked if the oil cabals were more powerful than security and the government, he replied, "Yes, and that's what the government is dealing with." First and foremost, the subsidy must be removed."
Malam Nuhu Ribadu, the National Security Adviser (NSA), also spoke, pleading with organised labour to give the administration as little time as possible to repair the battered economy.
He stated that President Tinubu inherited a bad economy, which he is working hard to improve.
The meeting was an opportunity for us to appeal to the labour leaders by extension Nigerians that we are facing difficulties and challenges that are not our making. We inherited a very bad situation. Most of the problems people are talking about are not a creation of this government. This government is barely two months old and since we have been facing these difficulties and challenges, we have a listening and engaging President, a president who will want to have a conversation and react.

He is truly, genuinely, honestly doing it. Our appeal is please Nigerians give us the support that is needed and required, we are working, we are trying to change things. We inherited a very bad situation, we are trying to stop all those things we witnessed in the past, we are trying to stop the killings, stop the attacks on trains, stop attacks on prisons, stop IPOB what they are doing, stop bandits, stop Boko Haran, he said.
The organised labour had walked out of the meeting last Friday, claiming that there were no top government officials present to negotiate with.
Ajaero, his TUC counterpart, Festus Osifo, the General Secretary of the NLC, Comrade Emma Ugbaja, the TUC Secretary, Nuhu Toro, and other members of the organised labour delegation, including Prof. Sam Amadi, attended the meeting on Monday.
The President's Chief of Staff, Femi Gbajabiamila; Permanent Secretary, Ministry of Labour and Employment, Kachollom Daju; Group Chief Executive Officer of Nigerian National Petroleum Company Limited (NNPCL), Mele Kyari; and Special Adviser to the President on Energy, Olu Verheijen were among those in attendance.