GOSSIP
Bold Man who bent his head in Lagos market to see 'spirits' shares aftermath of experiment (Video)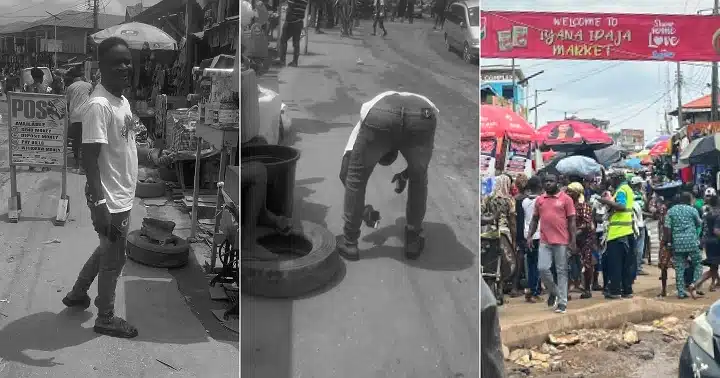 A Nigerian man who boldly went into Lagos market to bend his head while holding a mirror has shared the aftermath of his experiment.
The Twitter user identified as @Oluwasheffy took matters into his own hands by going to the Iyana Ipaja market to prove that the whole ghost story is fiction.
He tweeted, "I've gone there and prove them wrong nothing absolutely nothing will happen to you."
In the video, @Oluwasheffy bent and looked through a mirror he held under his legs.
In another clip, he bent down again and tried picking his key from the ground, all to prove that there was nothing to fear.
See the tweet below:
@ELT_Godwins reacted: "You didn't bend well, and it those Mirrors in Barbers shops you should have carried."
@Alex_H reacted: "The ghosts were shy."
@chukkysmiles_ said: "Prepare yourself.
You at 3am."
@KingO commented: "Na Bus you wear white shirt. You no suppose dey do anko with spirit."
@lifeofabaron said: "Was it 2pm, and did you go to the herbs side?"
@burna340 said: "Update us tomorrow morning wetin your eyes for midnight."
@Clar olufemii reacted: "I don laugh burst for here."
@ Jendor1 reacted: "The ghosts at iyana ipaja after they've collected query from their boss over what you just did."
@4Betterja reacted: "That's thing you are finding, you will surly see it."
@Thefra said: "My brother you tried maybe you should use a Bigger mirror!
Some Will even say you should go to a busy market (I mean inside inside the market) and try it."
@Acme-seo reacted: "This does not even look like a market .. go to idumota .. Ibafo market .. ketu market and more like that .. inside the market, area that's buzzing. I don't know if the myth is true or not .. just saying the area he did it is wrong."